Here's what we know so far about PhilHealth's COVID-19 benefit packages
Did you know that the Philippine Health Insurance Corporation (PhilHealth) is offering benefit packages in relation to COVID-19?
PhilHealth, under the Universal Health Care Act (RA 11223), is mandated to "ensure equitable access to quality, affordable, and accessible health care services by Filipinos."
At present, three COVID-19 benefit packages are being presented to PhilHealth members, including testing, in-patient coverage for the hospitalization of mild, moderate, severe, or critical cases, as well as community isolation.
Testing package
SARS-CoV-2 testing can be done in all laboratories authorized by the Research Institute for Tropical Medicine (RITM-DOH).
The services included in this benefit package are screening/clinical assessment, diagnostic workup (as indicated), specimen collection, specimen transport, conduct of RT-PCR testing (including the test kit), and analysis and reporting of results. Who can avail it? Those who are classified as eligible for testing based on the guidelines set by the Department of Health and COVID-19 cases that require repeated testing.
Presidential Spokesperson Harry Roque previously said the agency will shoulder the cost of testing for medical frontliners, economic frontliners, COVID-exposed individuals, and those who are exhibiting symptoms. "At most, ang babayaran ay P300. Hindi naman po tama na sabihìn natin na hindi tayo nakakapagbigay ng libreng testing," Roque told the press. "Wala pong dahilan na hindi ka makakuha ng libreng RT-PCR test kung ikaw ay qualified."
As clarified in PhilHealth's circular, however, Filipinos may avail the three offerings "provided that they complete member registration upon availment of the benefit package." They are required to accomplish the PhilHealth Membership Registration Form for the issuance of their PhilHealth Identification Number.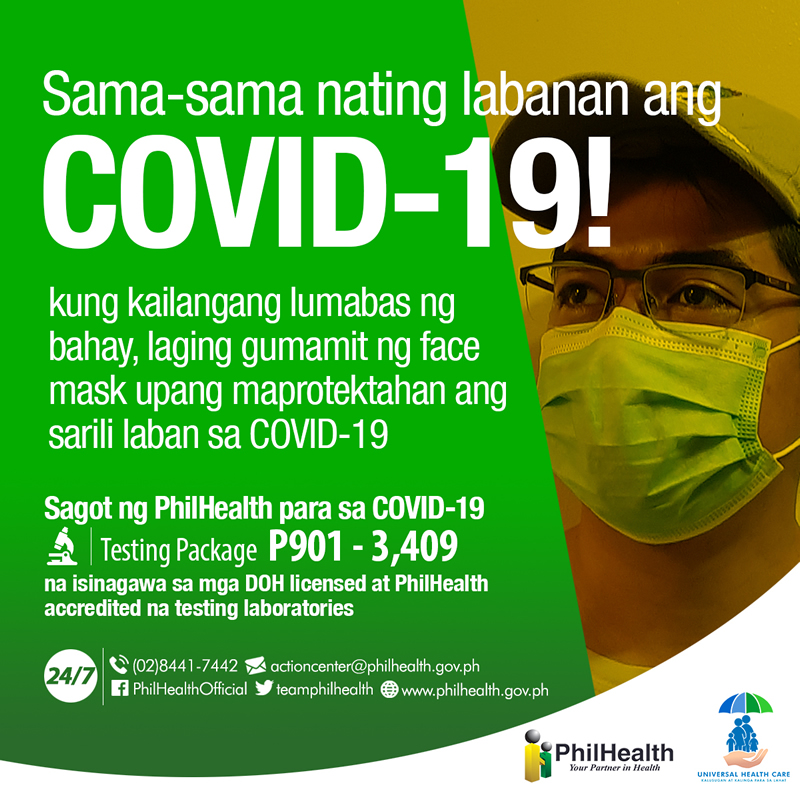 Those who wish to file a claim need to submit a properly accomplished Claim Form 2 and a certified true copy of the Case Investigation Form prescribed by the DOH.
Benefit packages for inpatient care
PhilHealth is also providing coverage for inpatient care of probable and confirmed COVID-19 developing severe illness/outcomes.
The mandatory services that are part of this benefit (inclusive of professional/readers' fees) are accommodation, management and monitoring of illness, laboratory/diagnostics/imaging, medicines included in DOH's guidelines and protocols, and supplies and equipment (including personal protective equipment).
"All COVID-19 benefits for inpatient care shall have no co-payment from the patient for direct healthcare services, both in private and public healthcare providers. Patients can have co-payments for amenities such as suite room accommodation," PhilHealth noted.
"Data sharing of suspect, probable, and confirmed cases of COVID-19 shall be done between the DOH and PhilHealth to develop a comprehensive patient registry in accordance with the Data Privacy Act of 2012," it added.
PhilHealth members may use the following packages for probable and confirmed cases of coronavirus: mild pneumonia for elderly or with co-existing conditions at levels 1-3 hospitals (P43,997), moderate pneumonia at levels 1-3 hospitals (P143,267), severe pneumonia at levels 2 and 3 hospitals (P333,519), or critical pneumonia at levels 2 and 3 hospitals (P786,384).
Additionally, the agency will cover other required medical treatments for those with critical pneumonia who develop impending severe conditions like acute respiratory distress syndrome, septic shock, requiring invasive ventilation, requiring extracorporeal membrane oxygenation, or requiring renal replacement therapy.
The accredited healthcare provider shall be the one to file the claim. "For patients referred and transferred from one facility to another upon confirmation of COVID-19, referring facilities shall be allowed to file claims based on the working diagnosis prior to transfer," as per the memo. "Likewise, referral facilities may claim for the appropriate benefit package based on the final diagnosis upon discharge."
Community isolation benefit package
The COVID-19 Community Isolation Benefit Package (CCIBP) "shall cover all inputs and activities within the entire episode of care at the community isolation unit, including payment for staff and professional fees, medicine, diagnostics, transport, and other operational costs."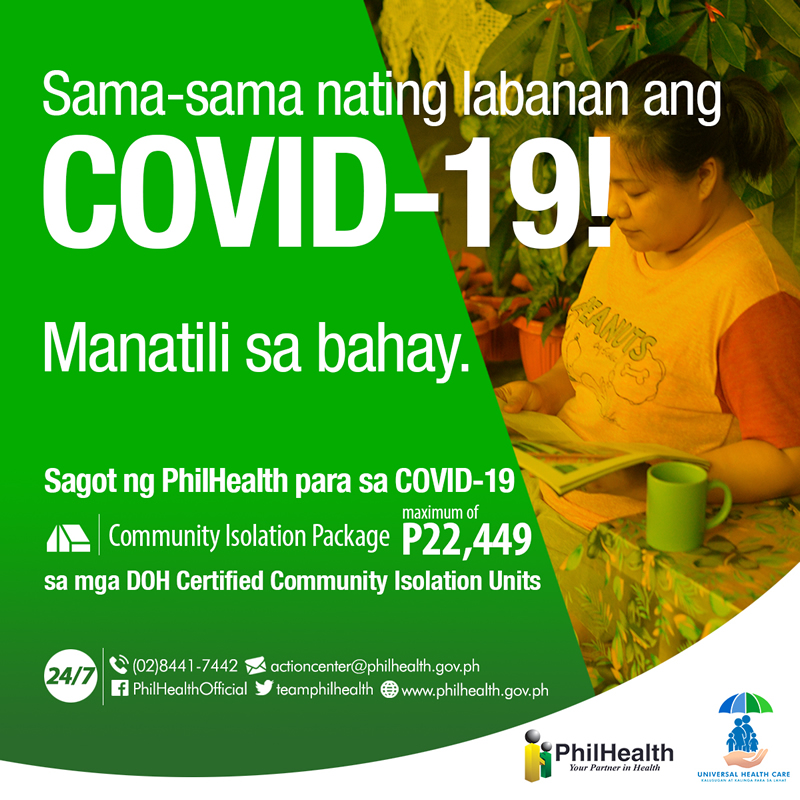 The services included in this particular package include a 14-day admission to a CIU, food, individual hygiene kit, seminar on respiratory etiquette, monitoring by a health care professional, medicine, diagnostic oxygen support, and a referral to a higher-level hospital if needed.
Just last month, Health Undersecretary and treatment czar Dr. Leopoldo Vega said PhilHealth is mulling benefits for COVID-19 patients who end up staying in emergency rooms and tents due to the surge in cases that has led to overcapacity in hospitals.
As of yesterday, April 18, the Department of Health has reported a total of 936,133 confirmed cases and 15,960 deaths in the country.
For more information on the benefit packages, you may reach PhilHealth through the following lines: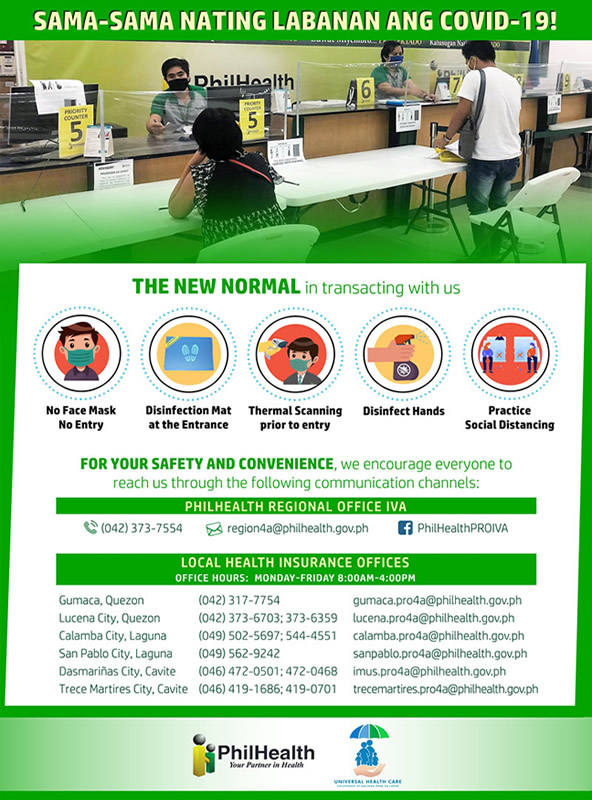 Article thumbnails from PhilHealth