LIST: PH luxury rooms and villas to stay at if you have at least P30k to spare per night
Fancy some R&R?
Amid the hustle and bustle of daily life, luxurious comfort is all we need. There's no one thing to describe what that means as, for some, an extravagant staycation in the metro would suffice. For others, it takes a long ride—by car or by plane—to another province just to get a feel of actually "getting away" from the city. The common denominator mainly lies in how much moolah we're willing to shell out for a much-needed vacation.
Talk about "upscale living" in hotels and resorts and the first things that would come to mind are first-class rooms, expensive food, picturesque views, incredible perks, among other features that evoke a sense of elegance and exclusivity. Of course, all that Haute stuff come at a cost. But if you can make it rain blue bills beyond your everyday necessities and acts of kindness, then go ahead and treat yourself.
Here are six luxury rooms and villas in the Philippines you can check out if you have at least P30,000 to spare per night.
Coral Executive Suite King - Okada Manila
P31,000+++ per night
Need to get away but can't get out of Manila? You might be satisfied with a quick staycation at one of Okada Manila's executive suites.
The Coral Executive Suite King is where you can admire the Manila skyline for as long as you want, with perhaps a drink in hand. Measuring 200 to 250 sqm, the room boasts luxurious living and dining rooms and a bar "filled with only the finest selections."
You may opt for king-size or double beds with Sealy mattresses for your suite that's equipped with a bathtub, rain shower, and designer amenities by none other than Roberto Cavalli.
Mahogany Pool Villa - The Farm at San Benito
P30,000+++ per night
You can do more than just eat and relax at The Farm at San Benito as it's a haven of relaxation and healing merged into one. Aside from the good views and spa, it also has a medical facility with integrative doctors. The food in its three restaurants ALIVE!, PESCE, and Prana are also curated for a healthier you, so expect to leave the place with a renewed sense of self.
When you're there, it would be nice to book the Mahogany Pool Villa "designed with the concept of a wide space connected with the wonderful scenery of the jungle." The 300 sqm-unit with floor-to-ceiling windows even has tailor-made furniture that showcase the incredible creativity of Filipino artisans.
With a maximum occupancy of two adults and two children under 12 years old or a maximum of three adults, the room inclusions include welcome drinks, smart TV, iPad docking station, safety deposit box, indoor bathtub, terrace, swimming pool and relaxation bale, day bed, and so much more.
Treehouse Villa - Shangri-La Boracay
P34,000+++ per night
Ahh, nothing beats the white sand beaches of Boracay. If you're one to see its coastline in all its glory, Shangri-La Boracay's Treehouse Villa could be your best bet. This two-storey place is one of the best spots that can give you stunning panoramic views as you relax in an outdoor whirlpool bath on its balcony.
Among its amenities are premium items for bath and personal care; two units of flatscreen cable TVs and an iPod dock for media and entertainment; writing desk, telephone, and in-room locker for its office and equipment stationery; as well as refreshments, including Nespresso machine and tea-making facilities.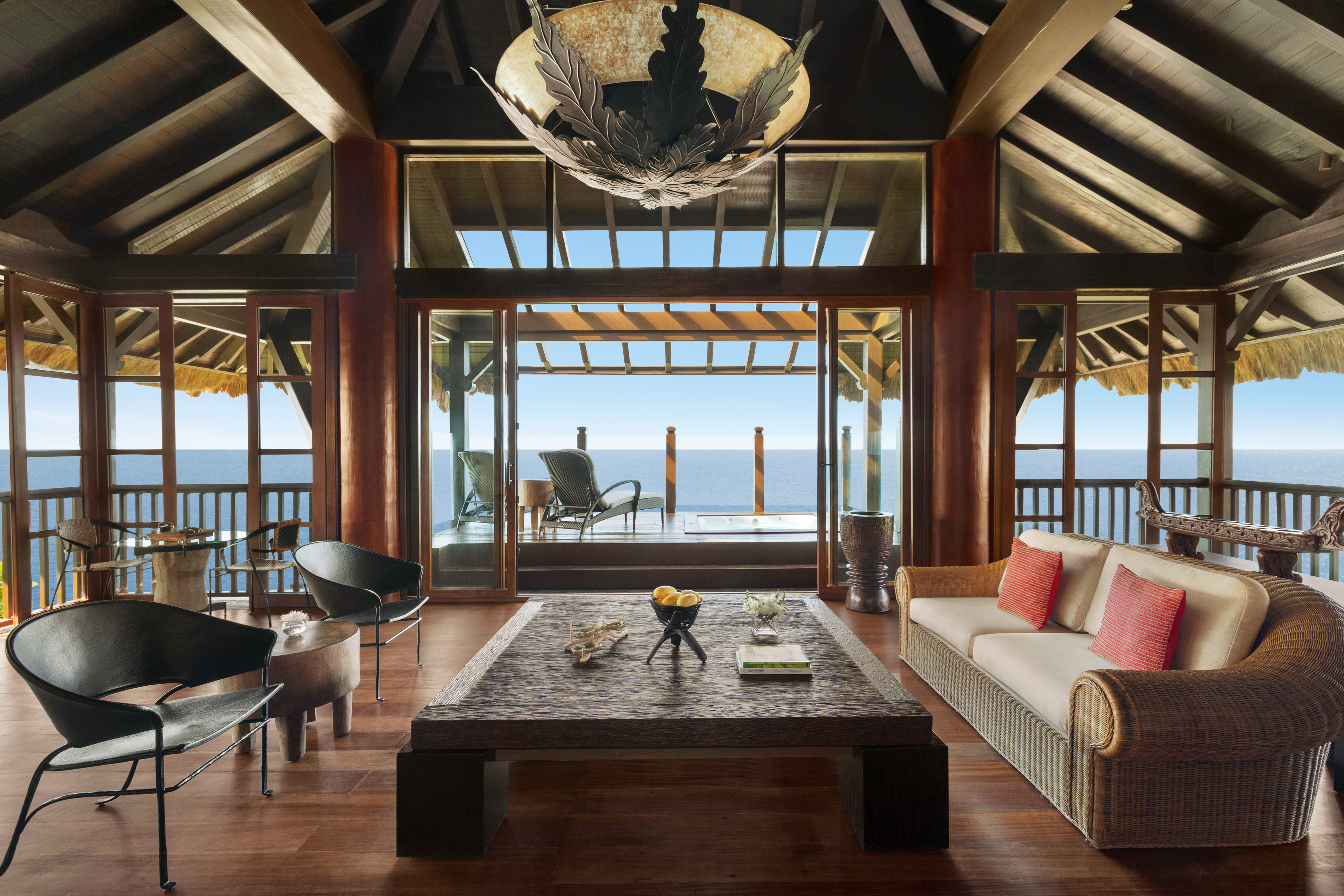 Seaview Room – Miniloc Island
P30,000+++ per night
With a province as breathtaking as Palawan, you'd only want a good view of it even when you're inside your room. At Miniloc by El Nido Resorts, you're in for a "back-to-basics Filipino coastal village vibe with rustic or native design." You can book the seaview room, which can house a maximum of four people for at least P30,250 per night.
It has an inviting view of the waters, where you can swim with the 1.5-meter jackfish and explore various marine species at its house reef.
Beachfront Villa - Misibis Bay
P32,800+++ per night
Of all the rooms at Misibis Bay situated in the province of Albay, the Beachfront Villa is the most expensive for its lovely veranda with beach beds and a private plunge pool.
The room itself includes a king bed, safety deposit box, complimentary coffee counter, LCD television, and more, which you can enjoy with a significant other or a friend.
Up for an adventure? Before getting your peace and quiet at night, go on an enjoyable ride on the tropical destination's all-terrain vehicles and trail blaze to the top of Cagraray's EcoPark.
Deluxe Villa – Eskaya Resort
P30,000+++ per night
The main features of the deluxe villa at Eskaya Resort in Bohol are its spacious pool and sea views, which could undoubtedly make you a morning person. Imagine sleeping inside a cozy, modernized bahay kubo only to wake up to refreshing greens and waters, and then enjoy a dip in a private pool all to yourself and your loved ones.
The room also has two beds, its own toilet and bath with whirlpool bathtub, as well as a balcony with two daybeds.